How to Start Affiliate Marketing with No Money?
So, you're interested in affiliate marketing but worried you'll need a lot of money to start.
Don't worry.
You don't need much money to start your affiliate marketing business. Many of my friends are using the free method to run their affiliate marketing business, and they are earning more than $5000 per month.
Yes, starting your affiliate marketing journey with little or no money is possible.
I will tell you how to start affiliate marketing with no money in this article.
I started my affiliate marketing four years ago with just $20. Now Im earning a six-figure income from affiliate marketing alone.
Before going to the main topic, let's understand some basic things about affiliate marketing.
What is affiliate marketing and how does it work
Affiliate marketing is promoting someone else's products or services and making a commission when someone clicks on your affiliate link and buys a product.
For example, if you upload a youtube video or publish a blog post sharing the best work-from-home headsets and someone buys a headset after clicking your referral link, you'll get a percentage of that sale.
For many people, it's a dream business as it does not require your own product; you don't have to manufacture, handle customer service or ship products.
Why is affiliate marketing a good business model?
Affiliate marketing is a lucrative business model. Through affiliate marketing, you can build several passive income streams.
There are several benefits of starting affiliate marketing business. These are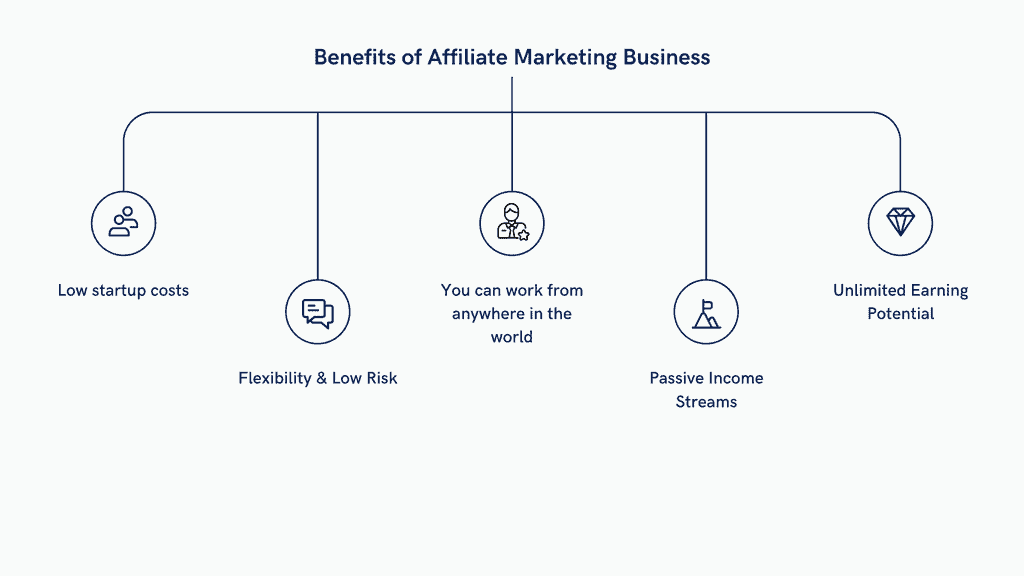 Low startup costs
One of the main advantages of affiliate marketing is it requires a low start-up cost. In this business model, you don't require your own products or services.
It is mainly beneficial for those who are willing to start their business but don't want to invest much money and don't want to create their products or services.
However, it is important to note that it requires hard work and time. You'll need to create a website or blog, attract visitors and build a relationship with your audience.
Also, it is possible to establish your affiliate marketing business without having a blog or website.
It is important to know that though starting an affiliate marketing business needs low start-up costs, it is also a good idea to have a budget for marketing and advertising.
Flexibility
Another great advantage of this business model is that you have a lot of flexibility regarding where and when to work.
You can work as little or as much as you want or set up your own schedule.
This makes affiliate marketing a dream business for many people who want to work from home and have a flexible schedule.
Also, You have lots of flexibility in terms of products and services you want to promote.
And you can start this affiliate marketing journey on a part-time or full-time basis.
Many of my friends started affiliate marketing as a side hustle, but later they adopted it as their main job.
So, you're your boss in this business. It is up to you to decide how much time and effort you want to put into it.
Unlimited Earning Potential
Another benefit of starting an affiliate marketing business is that there is no upper limit to how much you can earn.
The amount you make as an affiliate marketer largely depends on your effort and the products and services you promote.
Though you've unlimited earning potential in affiliate marketing, it is also important to note that building a successful affiliate business takes time and effort.
It's not a quick rich scheme. Having realistic expectations about your earning potential is also a good idea. As a beginner, many make mistakes in this case.
Low Risk
You don't need to invest in inventory or physical storefronts as an affiliate marketer. Even you don't have to worry about manufacturing or fulfillment.
So, starting an affiliate marketing business can be considered a low risk compared to starting a brick-and-mortar business.
That means you don't have to invest a large amount of money in starting, and you don't have to face that amount of risk you face in other businesses.
Moreover, you're promoting other people's products or services. So, you don't have to take the risk of creating your own products and services.
You can build more than one passive income streams
Once you've established a successful affiliate marketing business, you can earn significant passive income by promoting other people's products while sleeping.
However, building a successful affiliate marketing business requires much upfront work.
There are many different ways to approach affiliate marketing, and you can use various strategies to build multiple income streams.
For example, you can promote different products or services through different affiliate programs or create content around various topics related to the products or services you are promoting.
You can also promote products or services on different platforms, such as your website, social media accounts, or email marketing.
With creativity and hard work, it is possible to build multiple passive income streams through affiliate marketing.
You can work from anywhere in the world
One of the great things about affiliate marketing is that it can be done from anywhere worldwide as long as you have an internet connection.
This makes it a particularly great option for those who want to have the freedom to work from anywhere, whether it be from home, a coffee shop, or even while traveling.
You can promote products or services online and earn a commission for each sale with affiliate marketing. This can be done through various channels, such as your website, social media accounts, or email marketing.
As long as you have a way to reach potential customers and promote products or services, you can do affiliate marketing from anywhere in the world.
How to Start Affiliate Marketing with No Money or Little Money?
Now the question is can I really start affiliate marketing with "no" money?
Yes, Starting an affiliate marketing business with little or no upfront money is possible.
However, it may be easier to get started if you have some funds available to invest in your business.
Here are the ways you can start affiliate marketing with little or no money:
Step 1-Find a niche:
Find a niche that suits your passion and needs. There are mainly three broad niches. These are Health, Wealth & Relationships.
Choose any one of these three. Then narrow it down. The more you go narrow, the more money you will make.
For example, Marketing is a broad niche. If you narrow it down, you'll get Digital Marketing and traditional marketing.
If you narrow it down further, you'll get Affiliate Marketing.
So, affiliate marketing is the final niche in this case. This is an example of how to choose your niche.
But your niche may differ from affiliate marketing, such as pets, games, and anything else.
Step 2-Join an affiliate program for free:
Many companies have affiliate programs that are free to join. You can become an affiliate and start promoting their products or services without any upfront cost.
Step 3-Use social media to promote products or services:
Social media is a great way to reach a large audience without spending money.
You can use several social media platforms like Facebook, Twitter, LinkedIn, YouTube & Instagram to promote products or services for which you are an affiliate and earn a commission for each sale you make.
Step 4-Build a Website or Blog:
You may create your first blog when you earn money using the free method. You need a domain name and hosting account to start your blogging journey.
A domain name is the name of your blog like smartsourav.com is the domain name for this blog you're reading this article on. You can use Godaddy or NameCheap to purchase the domain name.
And for hosting, I use Hostinger.
This blog smartsourav.com is hosted on Hostinger.com. You can also use Hostinger. You can use this link to get a discount on your hosting purchase.

Step 5-Create Killer content for your website or blog:
Now your work is to start creating killer content for your website or blog and include affiliate links in your posts. This can be the best way to promote products or services and earn a commission without upfront costs.
While you can start affiliate marketing with little or no money, it may take longer to see results, and you may need to put in more effort to drive traffic to your website or social media accounts.
Additionally, having some funds available can help you invest in website hosting, marketing, and advertising, which can help you grow your business faster.
Step 4. Experiment Like a Mad Scientist:
As an affiliate marketer, it's essential to constantly test and experiment with different strategies to see what works best and what does not work for your target audience.
This can involve testing different ad copy, landing pages, and offers to see which combination generates the most conversions.
It can also involve testing different traffic sources and targeting methods to determine which brings in the most qualified leads.
To nail down the best approach, you must approach these experiments with an open and curious mind. Think of yourself as a mad scientist who is always looking for new ways to improve your campaigns. And keep going if things work out right away – it takes time to see meaningful results, and only some experiments will be a success.
But by keeping at it and constantly testing and refining your approach, you'll be able to identify the most effective tactics for your business and use them to drive long-term growth.
Step 5. Scale it up
Once you've identified the strategies and tactics that are most effective for your affiliate marketing campaigns, it's crucial to think about how you can scale them up to drive even more outstanding results. Here are a few things you might consider:
Increase your budget: If you see good results with a particular campaign, try to increase your budget to amplify your reach and drive even more conversions.
Expand your targeting: If you're targeting a particular audience and seeing success, consider expanding your targeting to reach a larger audience. Consider targeting new audiences or testing different targeting methods.
Test new channels: In addition to scaling up your current campaigns, consider testing new channels or platforms to see if they can drive different results. For example, running campaigns on social media or exploring new affiliate networks.
Optimize your website: If your website is the hub of your online presence, it's essential to make sure it's optimized for conversions. This could involve testing different layouts, calls to action, or forms to see what works best.
Collaborate with influencers: Partnering with influencers or other affiliates can help you reach a larger audience and drive additional conversions. Consider reaching out to influencers or affiliates in your niche to see if there are opportunities for collaboration.
You can drive long-term growth and success as an affiliate marketer by continually testing and scaling up your most effective strategies.
Final Thoughts on How to Start Affiliate Marketing with No Money
Now you have a clear idea about how to start affiliate marketing with no money. Though starting affiliate marketing with no money can seem daunting, it is possible to achieve success with the right approach.
You can build a successful affiliate marketing business even without a budget by focusing on content marketing, leveraging social media, utilizing free resources, and being patient and persistent.
Remember always to learn and seek new opportunities, and never be afraid to try something new. You can turn your passion for affiliate marketing into a lucrative career with hard work and dedication.
Read Further on Affiliate Marketing
FAQs
Can you start affiliate marketing with no money?
Yes, it is possible to start affiliate marketing with no money.
How do I start an affiliate marketing business for free?
Here are some steps you can follow to start an affiliate marketing business for free:
1. Choose a niche: Start by choosing a niche that you are interested in and that you have some knowledge about. This will make it easier for you to create content and promote products related to that niche.
2. Set up a website: Next, you'll need to set up a website. There are several free website builders that you can use to create a basic website.
3. Join an affiliate network: After you have your website set up, you can join an affiliate network such as Amazon Associates or ClickBank. These networks will provide you with access to a variety of products that you can promote on your website.
4. Find products to promote: Once you have joined an affiliate network, you can start looking for products to promote. Look for products that are relevant to your niche and that offer a good commission rate.
5. Create content: To promote your affiliate products, you'll need to create content on your website. This could be in the form of blog posts, articles, product reviews, or videos. Make sure to include your affiliate links in your content so that you can earn commissions when people click on them and make a purchase.
6. Promote your website: After you have created some content, you'll need to promote your website to get traffic. You can do this through social media, search engine optimization, or paid advertising. The more traffic you can get to your website, the more potential there is to earn commissions from your affiliate products.